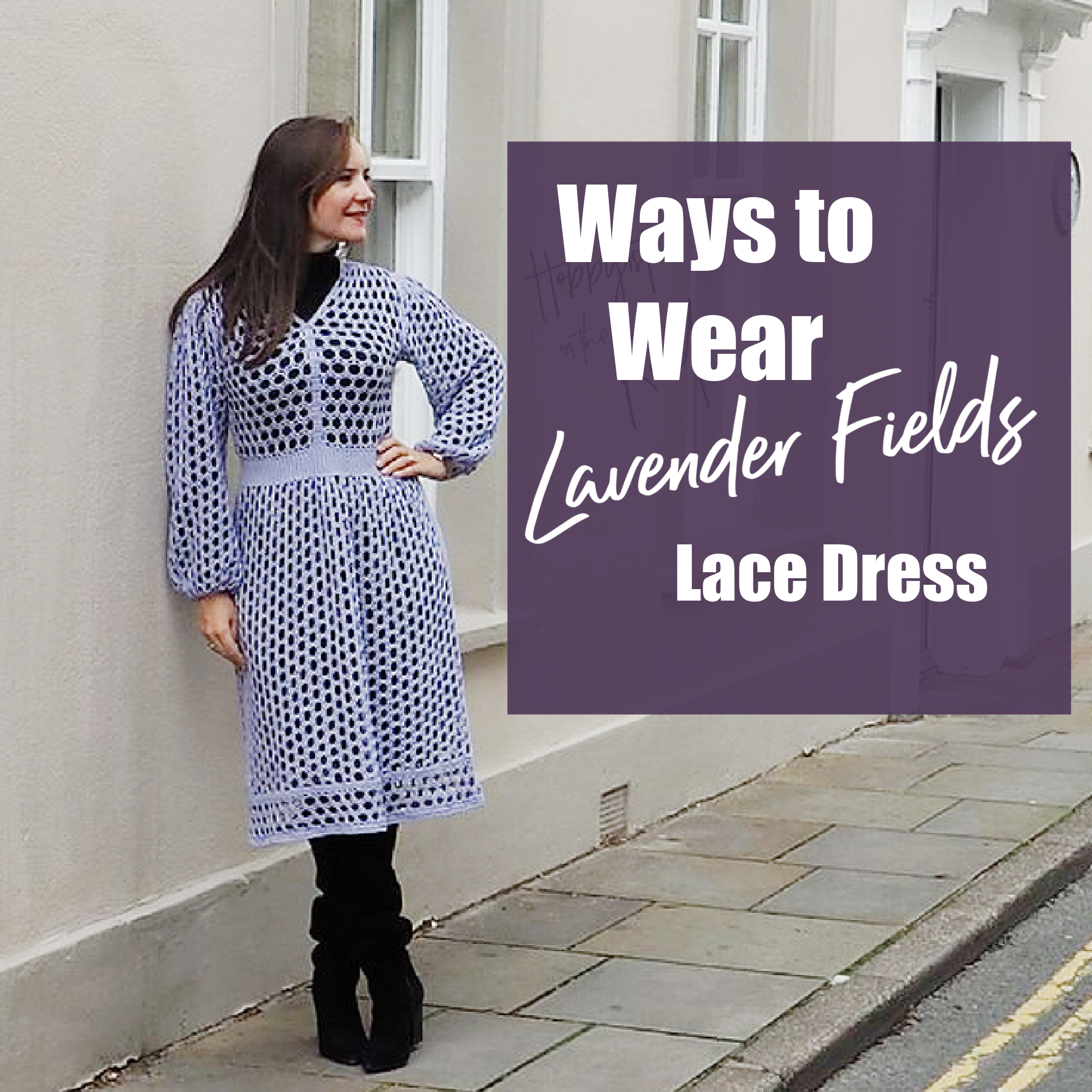 Ways to Wear my Lavender Fields Lace Dress.
After the recent launch of my Lavender Fields Lace Dress crochet pattern, I ran into a dilemma.
I completed the dress in the summertime, and it made a perfect outfit for those balmy late August and early September evenings.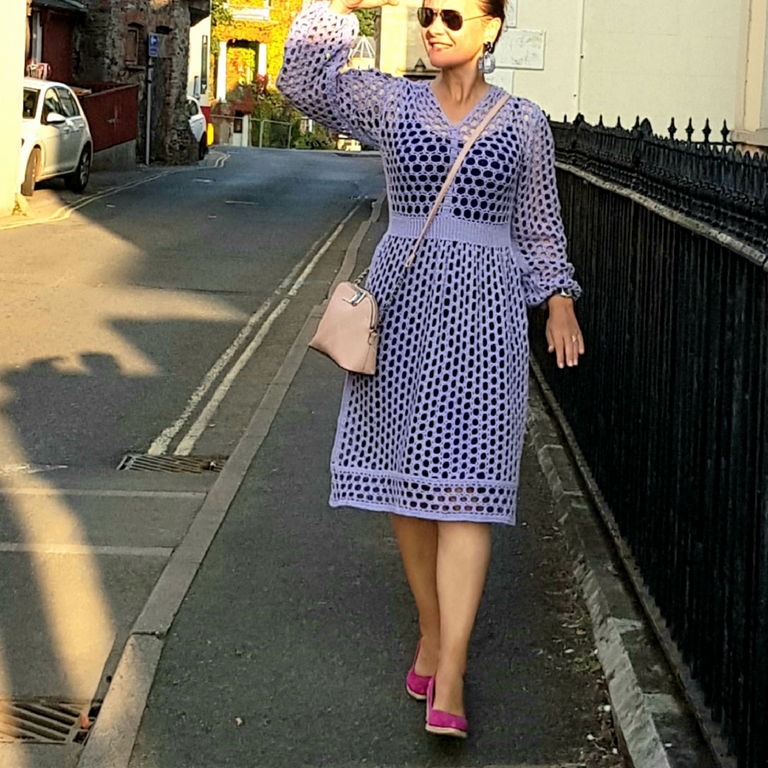 But by the time my lovely team of testers finished testing the pattern, October has arrived.
You can get the pattern on ETSY | RAVELRY |THIS WEBSITE | RIBBLR (coming soon)
Hence the dilemma:
How can I wear my lace dress in autumn and even later into the cold season? Is it even possible? Is this dress just for warm season or can it be realistically worn during the chilly months of the year?
So to answer these questions, I grabbed my Lavender Fields Dress and headed for the shops.
My plan was to find at least two warm undergarments that I could easily pair with my lace dress.
So here are the results of my little 'Ways to Wear' experiment in the changing rooms:
Black knit pullover and a black slip paired with black suede boots.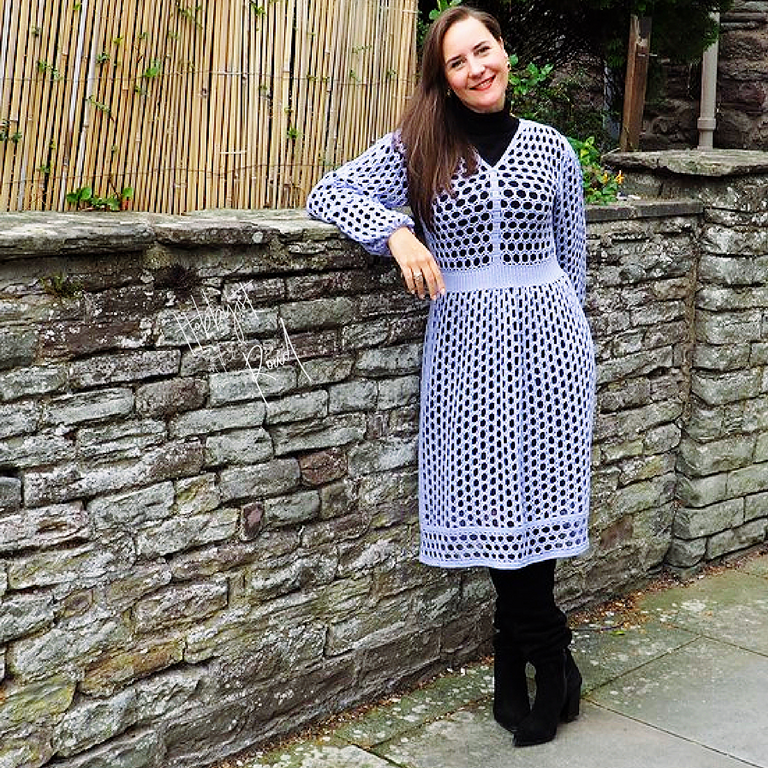 I really love this look where black background makes the lace texture stand out.
The turtleneck keeps me warm and cozy, and I do not have to think whether or not it sits well. Yes, am keeping this set, it's a winner!
Other dark monochrome colours would also work very well, and they would be really effective, if you could keep the footwear in the same colour.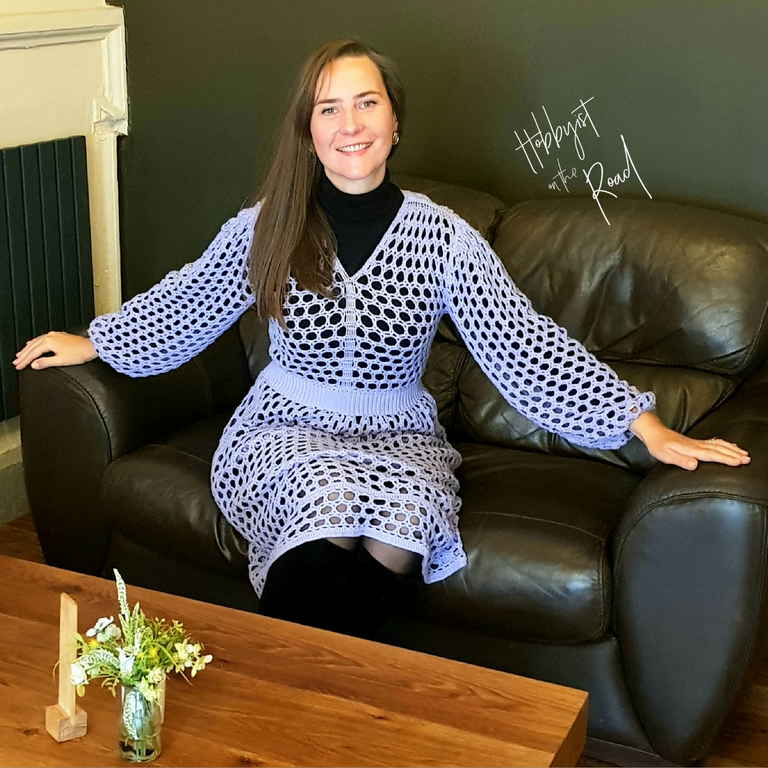 2. Ribbed jumper dress in nude colour and brown suede boots.
Before going into the shops, I actually thought I will simply buy a few knit jumper dresses in different colours and be done with my experiment. Turns out, they are not so easy to find!
I found this dress in nude colour, a size smaller than what I would normally wear, but it doesn't really matter, because the material stretches and my intention is to only wear it as an undergarment.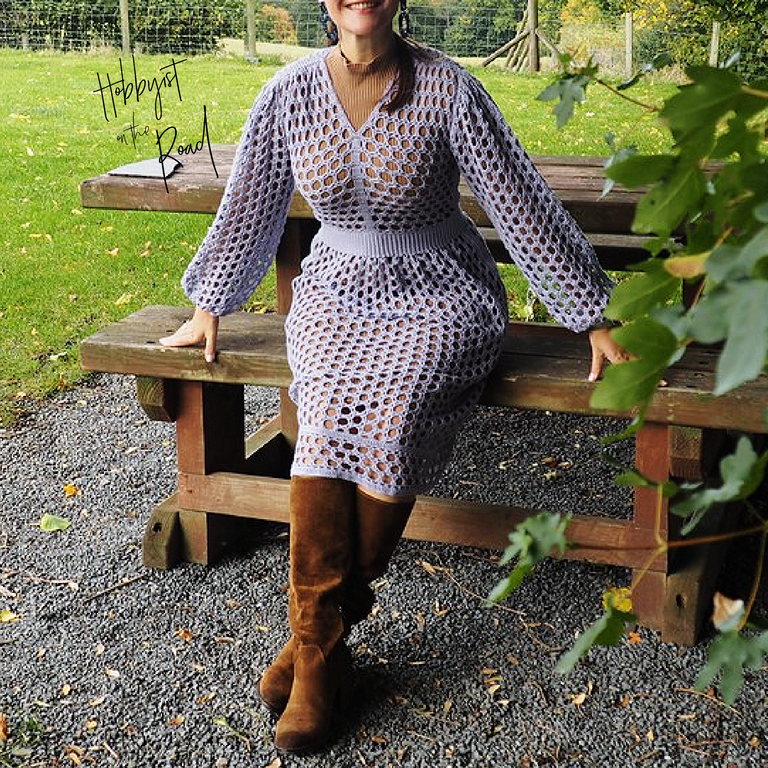 As you can see, a simple swap of colours, lends the lace dress a totally different look and feel.
This time, the dress seems more toned down, definitely a casual daytime outfit.
As you can see from a close-up picture below, the nude colour dress has a basic ribbed pattern, which is not ideal for wearing it with my lace dress. The reason, I think, I can just get away with it because of the totally neutral colour which does not draw attention to itself.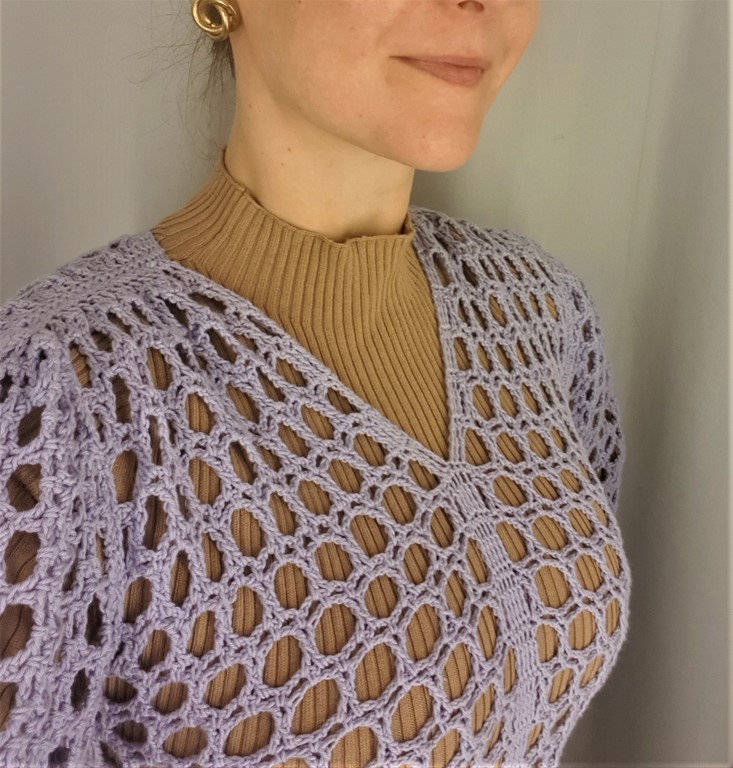 Another aspect to keep in mind if choosing a nude fabric as an undergarment for this dress, the first impression can be that you are not wearing anything underneath. So you may sometimes get some startled looks…
Apart from the two variations above which I've decided to keep, I tried on a number of different tops and dresses and took some close-up pictures to see how different fabrics, textures, colours and knits work with the lace of Lavender Fields Dress.
Here are some more pictures and conclusions from my fitting rooms adventures.
One important conclusion – my black knit pullover works the best, because the knit is very fine and plain, there isn't any pattern on it.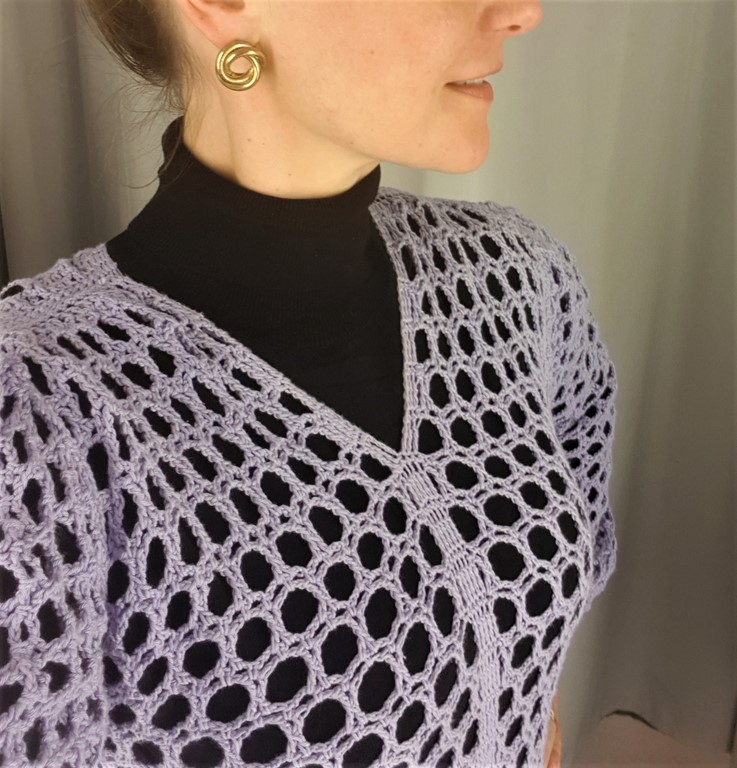 The minute a garment has some sort of pattern, even a simple ribbed one, it starts clashing with the lace. Sometimes, like with my nude coloured dress, one can make it work, but very often, it's not the best option.
Another discovery is the choice of fabric. This jersey pullover (picture below), for example, seemed like a good option while it was on a hanger. The minute I put it on, I realized it was not. It has strange, messy folds around the neck and in the chest area. So it was a NO from me.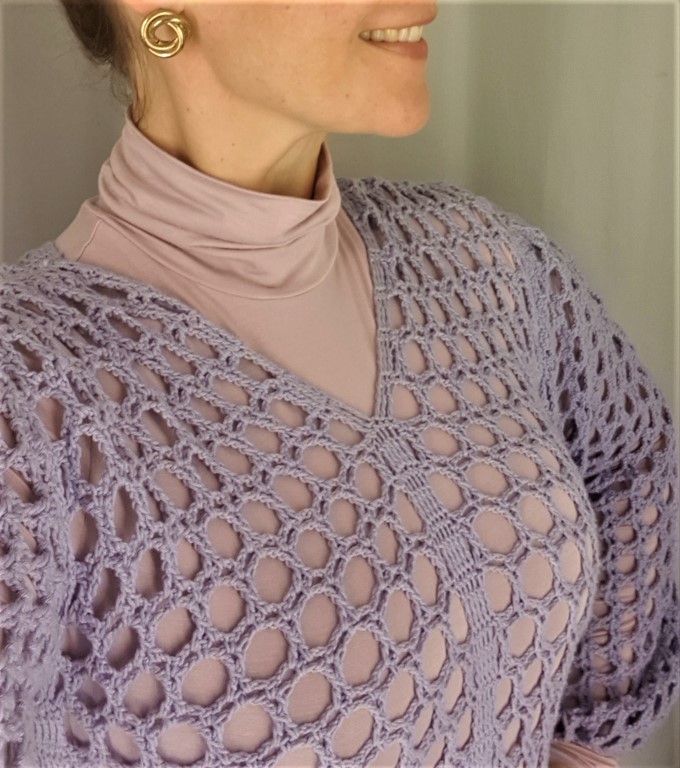 A maroon T-shirt dress (below) seemed like an option while I was in the lovely fitting room with dimmed lights.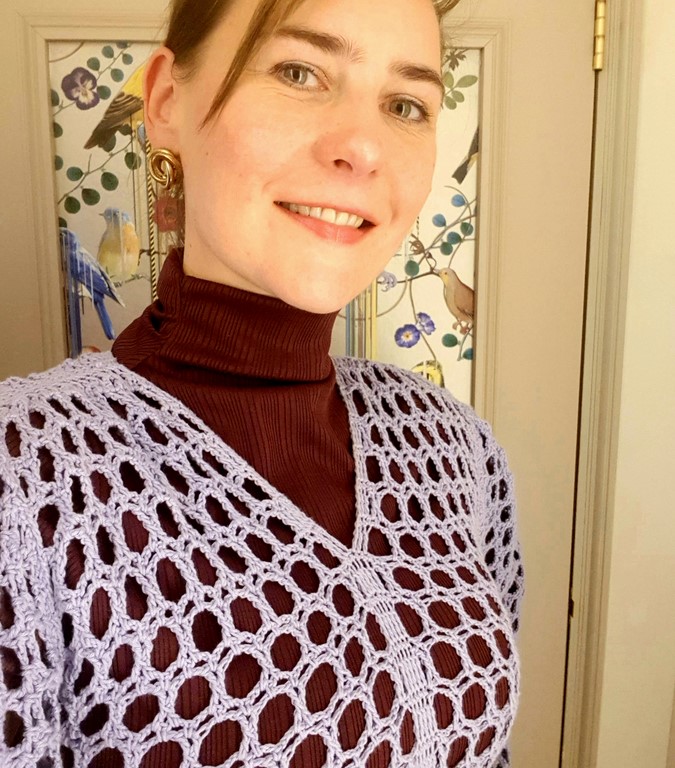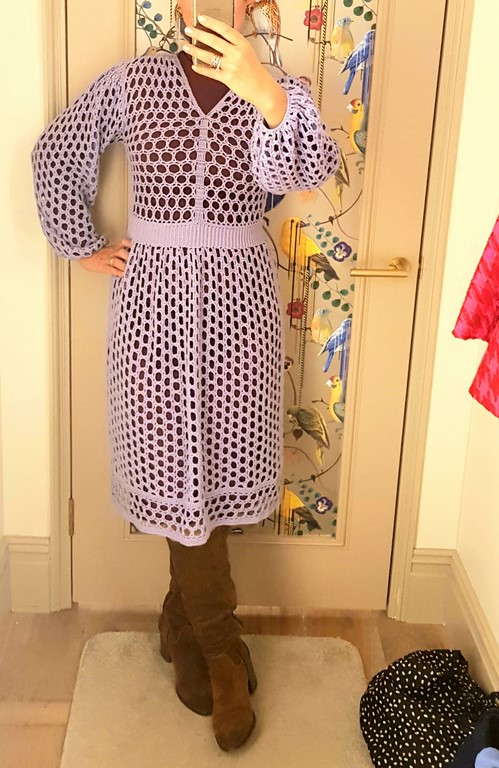 When I got into the daylight though, I changed my mind. This is because the shade of the dress looked totally different and the synthetic material seemed very cheap.
So another lesson learnt – always check an item in the daylight. Especially, if it is something you will be wearing during the day.
Another discovery I've made is about the shape of the neckline.
So for example, I thought it would be a good idea to layer my warm tailored vest on top of the dress, just to have a different option for chillier days.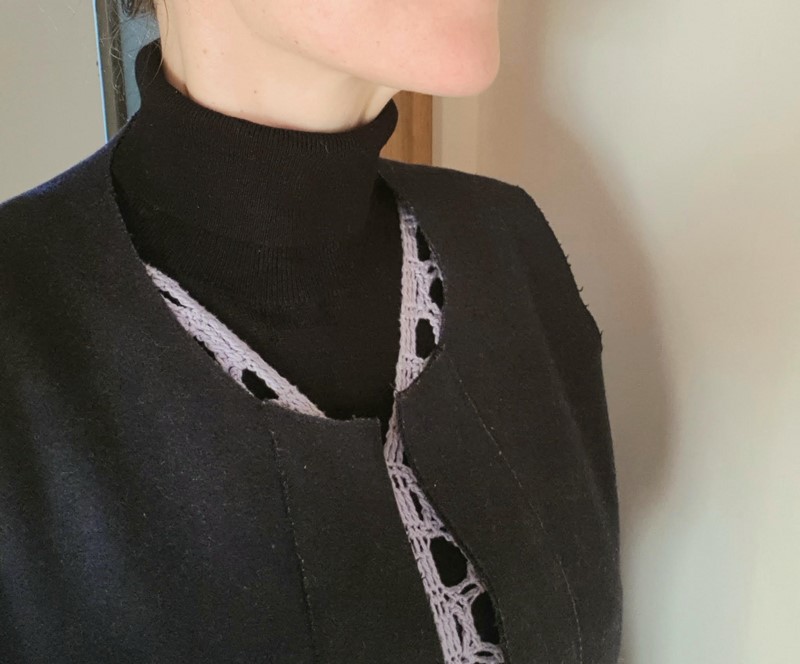 You can judge for yourself, but to my mind, having a pullover, a V-shaped and a round neck line on the same neck at once, does not look like the best option out there. So I am not going down this road either.
So there you have it, my 'Ways to Wear' adventures 🙂
I hope that my little experiment will give you some ideas of how you could wear your Lavender Fields Lace Dress (or any other lace item) during the colder months.
Get instantly downloadable Lavender Fields Lace Dress pattern here:



Liked this post? Pin it for later!