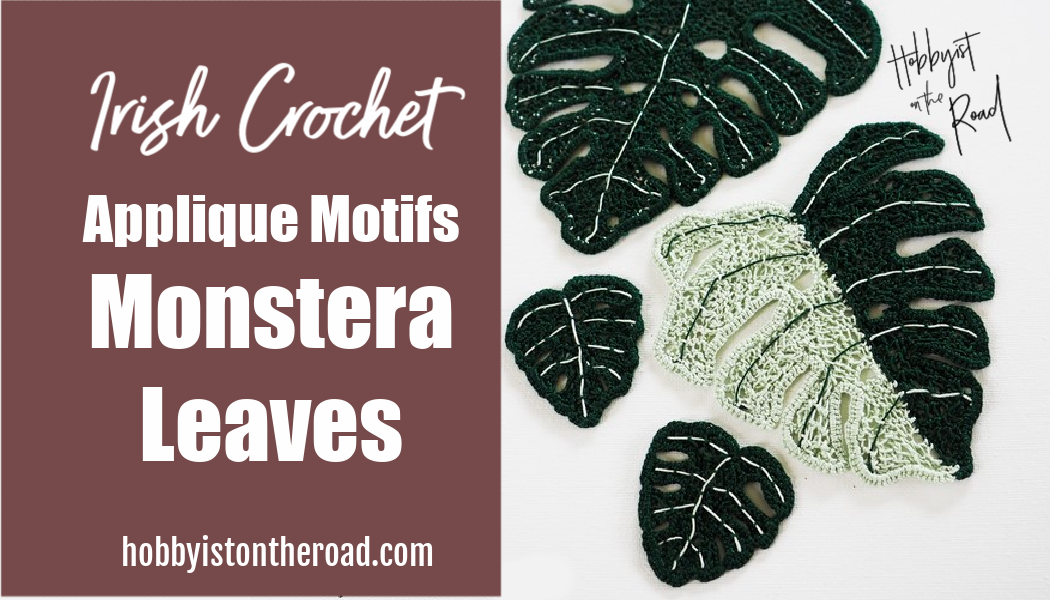 Three Crochet Monstera Leaves – the newest addition to my collection of Irish Crochet patterns (available HERE).
Originally, I planned to crochet a set of Monstera Leaf coasters, like this one: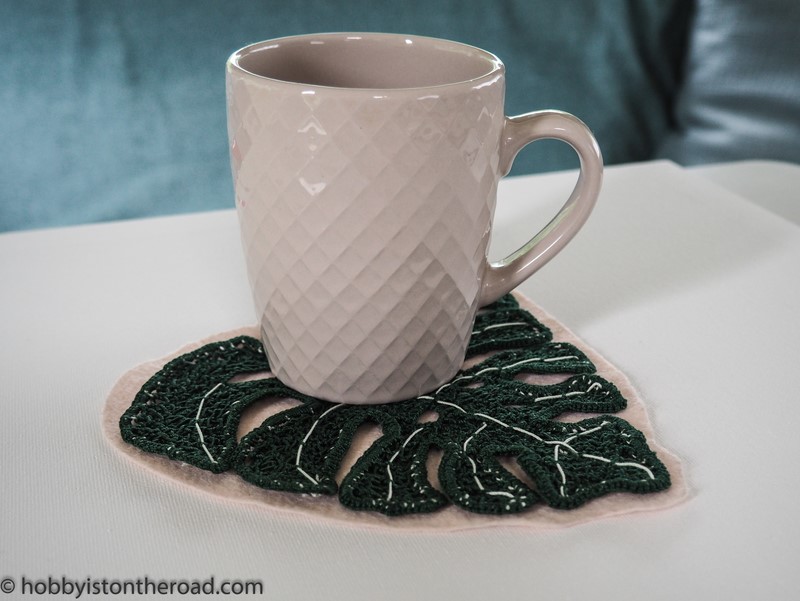 But, somehow, this project just grew the legs of its own and took off in a completely different direction than I originally planned!
So I ended up with a pair of earrings for a day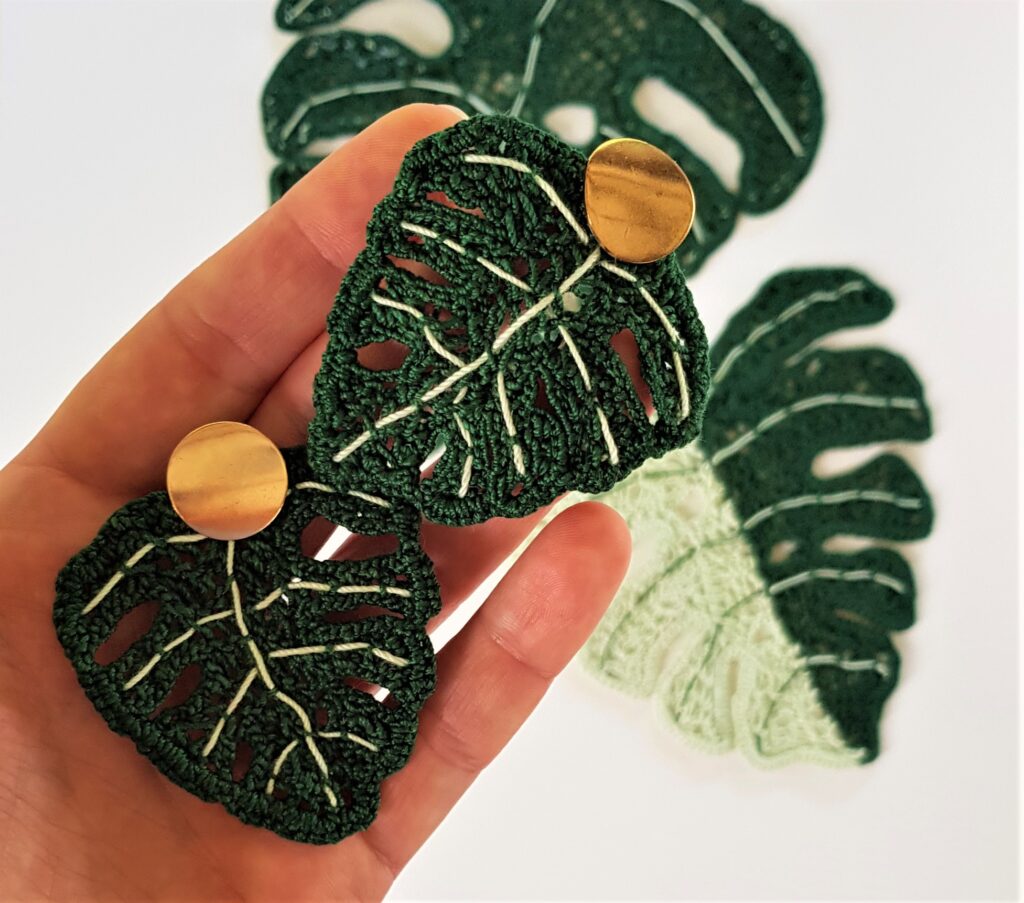 … a crochet Monstera leaves canvas…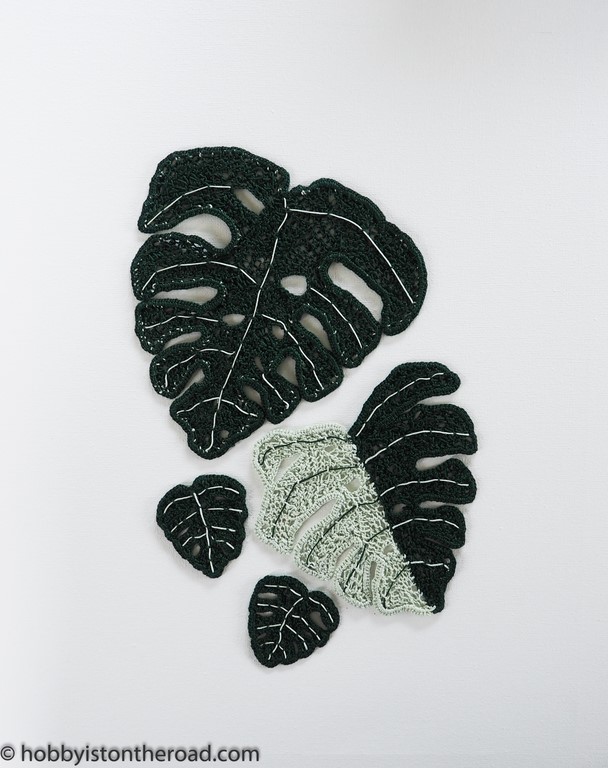 …and no coasters at all…
I am glad to report though that the crochet Monstera Leaves picture has survived the creative process and is actually on my wall now.
Himself also likes it, and even uploaded the image as his smartphone screen background – I feel really flattered 🙂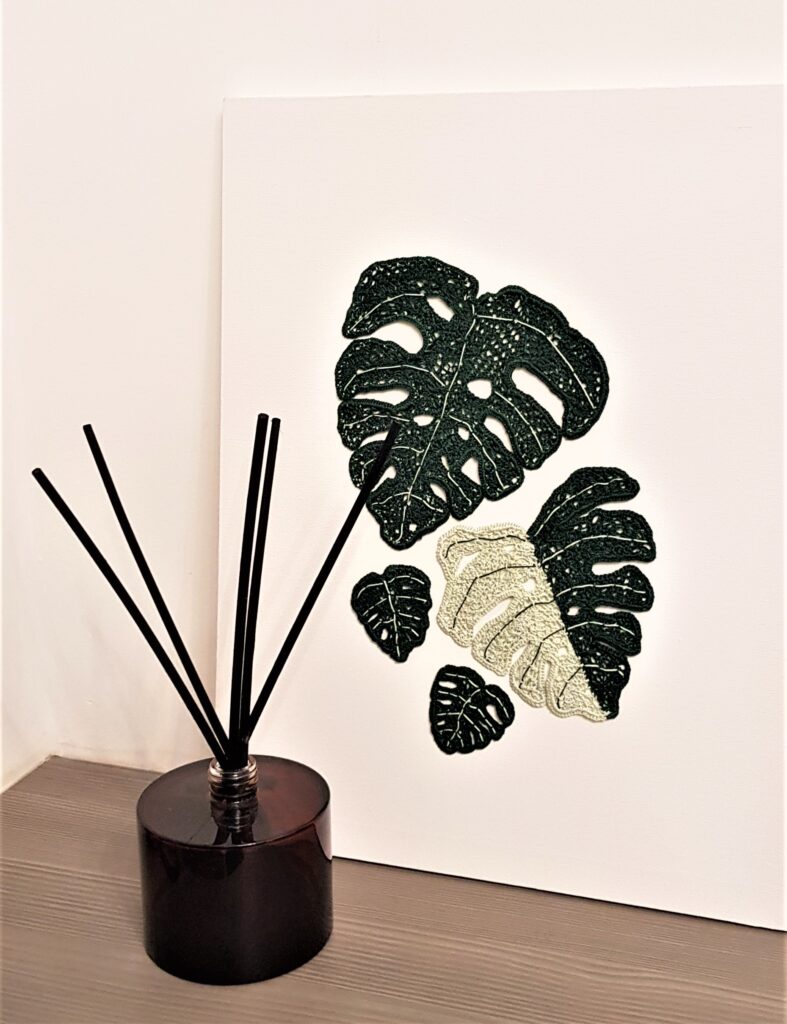 I crocheted these Monstera Leaves using irregular Tunisian lace, a process I described before when creating a Rose for my Irish Crochet Dress.
Materials and Tools used for Monstera Leaves project:
The yarn is 100% mercerized cotton 100g/460m approx.
2. 1mm hook for two larger leaves and 0.75mm hook for the smallest leaf.
You could potentially go up to 1.5mm hook, but anything larger than that, will make the process very difficult as you will be crocheting on a flat surface.
3. Soft worktop or a flat cushion.
4. Pins, scissors, needle.
5. Printer to print out Monstera Leaves drawings.
The way the process works is:
You attach your drawing of a Monstera Leaf to a flat soft worktop (or a cushion).
You crochet irregular Tunisian lace looking at the wrong side of your crochet Monstera leaves. This is the same procedure as in any Irish crochet project when you are working on the lace. Keep attaching your lace to the surface as you go along.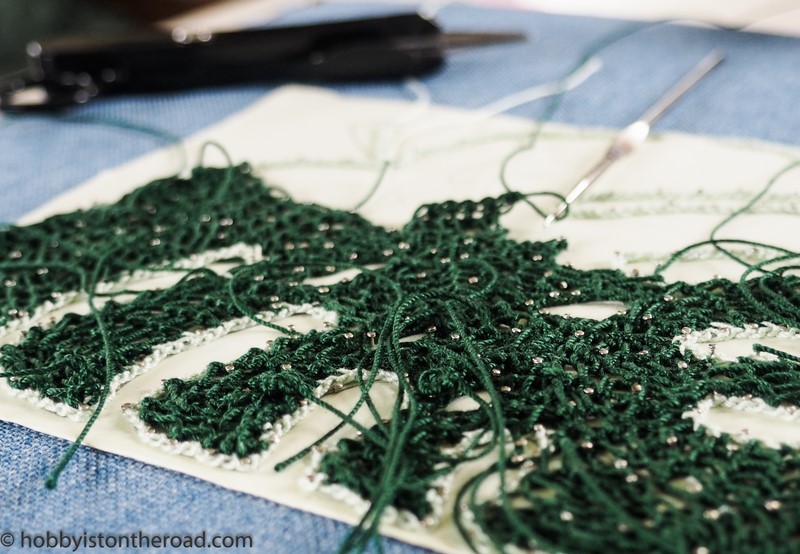 After you have filled the space with the lace, remove your crochet Monstera leaves, turn them around and see the real picture. Finish off the edges, sew in the thread ends. And now repeat the process with two smaller leaves.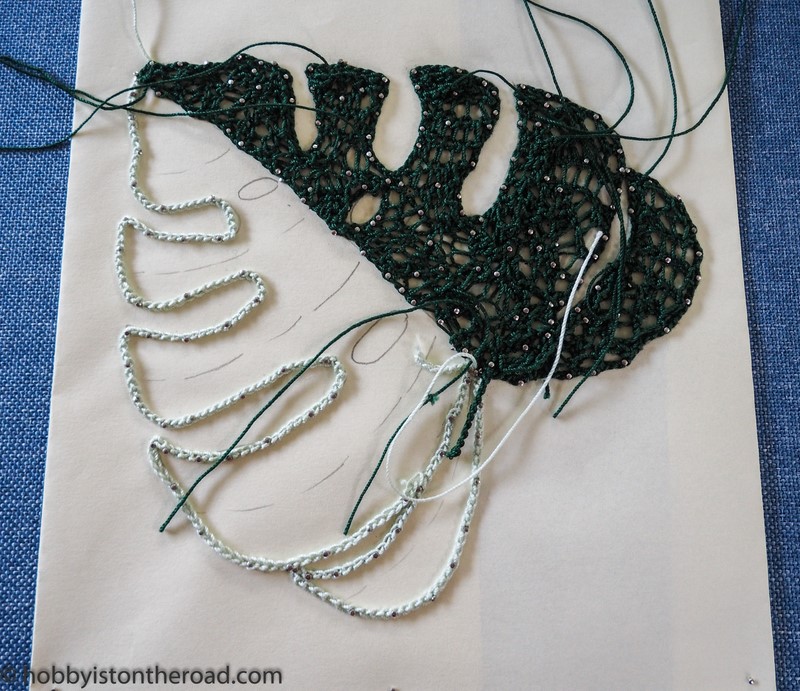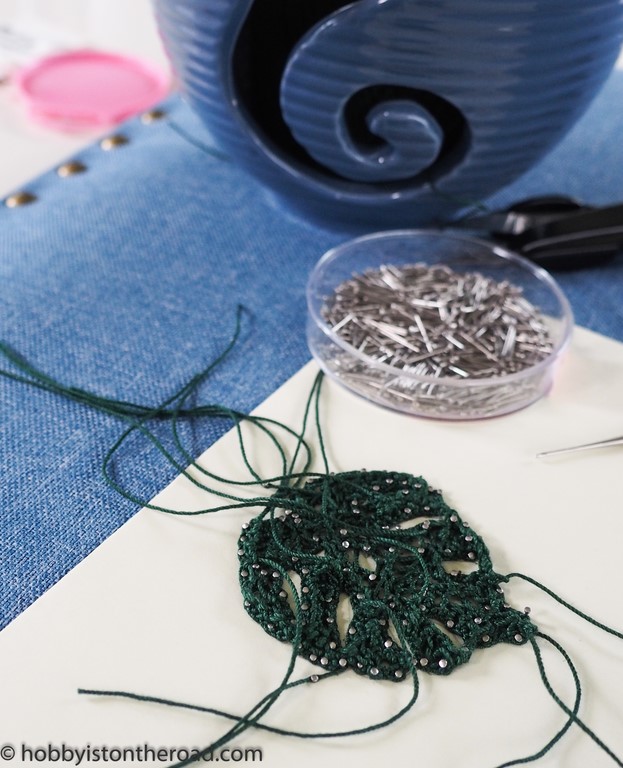 Remember to block your Monstera leaves with a steam iron, otherwise your leaves will not be completely flat.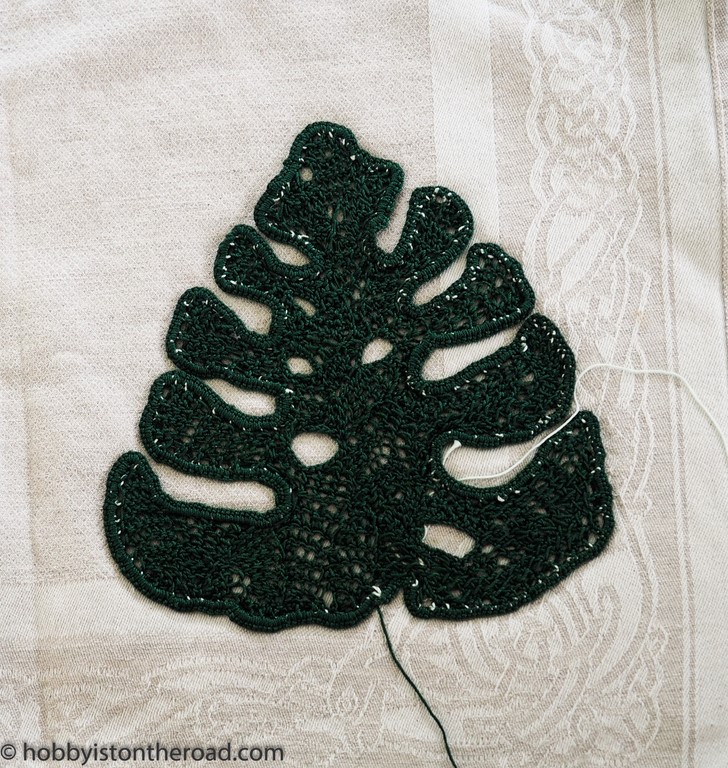 Embroider leaf veins with a contrasting thread using simple running stitch.
Voila!
You've got three beautiful crochet Monstera Leaves!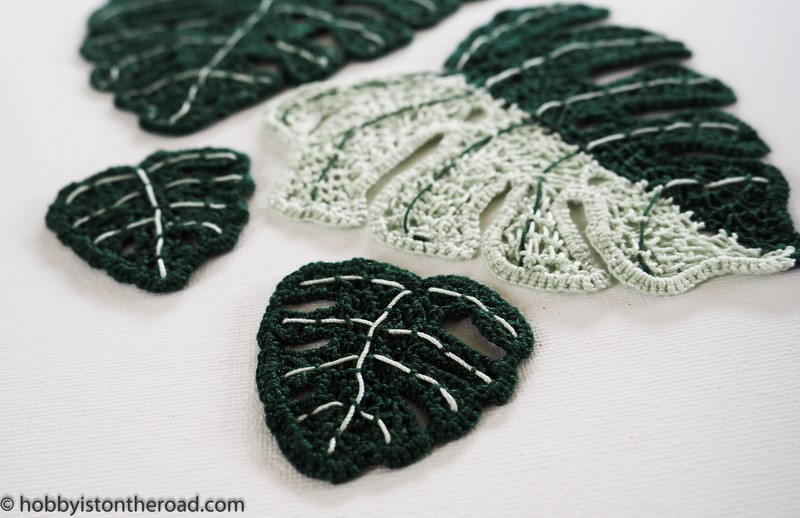 You can make the larger leaves into coasters, use the smaller ones for accessories, such as earrings, or do what I did – create a crochet canvas!
A crochet canvas picture was the first for me. I only bought the canvas in order to have a white background for taking pictures…
But a week later it ended up on the wall!
You never really know which direction your crochet project will take you!
For Step-by-step instructions downloadable PDF pattern:



Remember to drop me a line asking for a 30%OFF coupon for this pattern at: hobbyistontheroad@gmail.com
Create beauty one stitch at a time!
Liked this post?
Pin it for later!